Gites / Holiday cottages in the Loire Valley, France
La Huttiere offers two holiday cottages in the Loire Valley
Ideal location for visiting all the Historical sights and attractions of the region.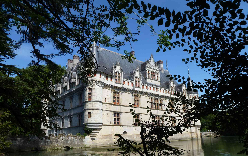 Located deep in the heart of the Loire Countryside, our Gites (Holiday cottages) 'Lily' and 'Rose' offer charm and tradition together with modern, comfortable holiday accommodation.
Each cottage (Gite) can accommodate up to 6 guests. All bedrooms have their own bathrooms (en-suite). Cots are available for the younger members of the family.
Outside we have 10 hectares of gardens, grounds and woodland. Situated at the end of a long track makes La Huttiere a very secure and safe place for even your smallest children to run around and have fun! We also have an 'out-of-ground' swimming pool for everybody to enjoy.
Each cottage has a private patio with outside dining area.
Please see our page 'Gites/cottages' for further information about the accommodation, or the 'Loire Valley' page for information about the region in general and places to visit. You can also click on the pictures for a link to that feature of the Loire Valley.
Do contact us for any help you need in planning your holiday in the Loire Valley. We look forward to welcoming you to La Huttiere, near Le Lude in the Loire Valley, France!